Cascade
Earth Hunters Book #3
The men around Volcanologist Lenaia Talavera have a habit of dying. As she struggles to process the tragedies, she pulls away from God and her boyfriend, Paleontologist Travis Perego. So when she's called back to Mt. Rainier and the small town of Mayim to investigate an act of sabotage, she jumps at the chance to avoid her problems and solve the puzzle. Someone on the mountain has tampered with the early warning system for rising magma, but who would want to risk an eruption that could kill an entire town?
Lenaia soon discovers that two women from town have disappeared. When she finds one of them dead on the mountain, she suspects the murder is related to the sabotage.
As she digs deeper, the evidence leads her to a deserted part of the mountain and an explosive secret. Unsure of who to trust and with time running out, Lenaia must stop a deadly plan before a killer buries the town of Mayim in a cascade of evil.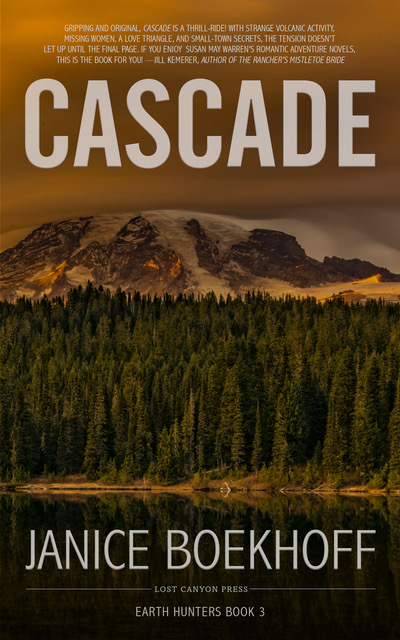 Cascade's relatable, well-developed characters, fast-paced plot, and vivid descriptions make it a one-sit read. I highly recommend it!!
As usual, Janice delivers an exciting, adventurous and suspenseful read. I had to wait a few days after purchasing to make sure I had enough time in the real world to spend in this book world.
This is my favorite book of Boekhoff's. Lenaia returns from Created as a main character, showcasing the hardships of losing a loved one, the fear of life's unknowns, and the beauty of God's love. The mountain and forest setting adds a level of intrigue and suspense, leaving you wonder if the mountain will erupt at any point. I can't wait for Boekhoff's next series!
I tried Janice's new title because I was going to the Pacific NW and like to read fiction set in the places I travel. She almost ruined my vacation!! All I wanted to do was read Cascade, I couldn't put it down. The story moves smoothly through the characters real life physical and moral dilemmas wrapping up with a satisfying, realistic ending. It hooked me from the first page (a rarity) and kept my attention to the end.