Created
Earth Hunters Book #2
After his sister's death sends him into the loving arms of God, Paleontology Professor Travis Perego fights to reconcile the career he's devoted his life to with his fragile new faith. His struggle between evolutionary theory and the Bible soon attracts the attention of the dean who makes at least one thing clear in Travis's life. If he doesn't figure things out soon, he's fired.
Then a former student tells him of an experiment designed to prove evolution true. Could it be possible to retrace the path of evolution through bird DNA—to reverse engineer a dinosaur? If so, Travis could finally get answers to the questions plaguing his thoughts and threatening his career.
Desperate to know if the experiment succeeded, Travis searches the jungles of Costa Rica for the missing biology professor and the mysterious creature he created. On the hunt to find them, Travis meets Lenaia, a woman with her own reasons to search for the creature. Though both have secrets, Travis and Lenaia agree to work together before their chances of finding the creature—and the truth—evaporate into the thick jungle mist.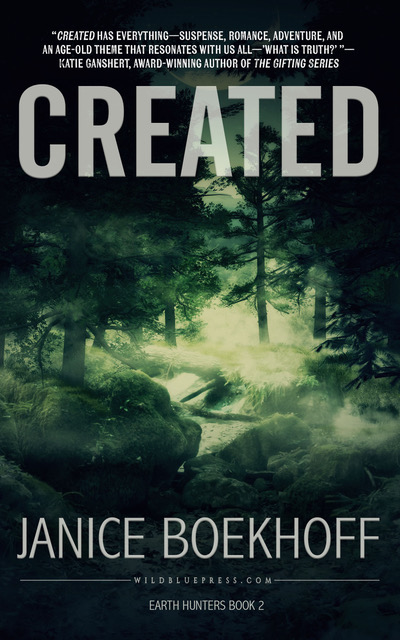 Created has everything—suspense, romance, adventure, and an age-old theme that resonates with us all—what is truth? Janice Boekhoff deftly turns that question into a coin in story-form, with science on one side and faith on the other, and invites readers to turn that coin over in their hands. With an excellent set of credentials in her back pocket, Boekhoff has the writing chops to become the Michael Crichton of the CBA.
A heart-pumping story full of adventure, intrigue and romance. In Created, Janice Boekhoff tells a heart-pumping story full of adventure, intrigue, and romance set deep in the Costa Rican rainforests. Throughout the novel, the multifaceted characters struggle with gripping conflicts that kept me turning the page late into the evening! Boekhoff is a beautiful writer who masterfully weaves thought-provoking science and complex human emotions into all of her novels. If you enjoy captivating and compelling tales, you'll love this book!
Author Janice Boekhoff gives the reader very few opportunities to catch his breath as the action races along to an exciting and unexpected ending. The characters are three-dimensional and engaging, and we quickly come to care about what happens to them. The issue of evolution vs. creationism is tackled in an honest, straightforward manner. This is the kind of writing more Christian authors should be turning out: strong, skillful and engrossing. I can, with pleasure, highly recommend Created.
If you like your romantic suspense smart, fast-paced and daringly original, Created is for you! It deals with hard-hitting themes of genetic mutation, evolution, creation and how far is too far in our quest for answers. The heart of the book takes place in the jungle, and it felt so real, I thought I was there! Ms. Boekhoff did an excellent job weaving action, romance, and the main characters' internal journeys. The ending had me pumping my fist in the air–I highly recommend this book!
I thoroughly enjoyed the creativity and research that went into this book. I haven't read a book like it, and the content was intriguing and captivating. The hope of romance and the character relationships hooked me deeper into an already fascinating plot line.