Deception Island
Jurassic Judgment Book #2
An island prison. Deadly dinosaur species. A daring escape.
Now it's a race to find the truth before someone notices she's gone …
Imprisoned on dinosaur-infested Costa Rica, Oakley Laveau is haunted by the desperate question of why her mother tried to kill her. When a dream hints at answers to her mysterious past, she's determined to uncover the secrets of her manipulated DNA. Oakley boldly decides to flee and hunt down the truth at any price … even execution.
Slipping away from the island with the help of a loyal friend, headstrong Oakley makes it to a floating research lab. But with the FBI in pursuit and a smug scientist plotting to exploit her, she may find her newfound freedom is deadlier than the cage she fled.
Will Oakley's determination to trace the clues of her past reveal a dangerous secret better left uncovered?
Deception Island is the tense second book in the Jurassic Judgment science fiction series. If you like genetically modified reptiles, savvy survivalists, and undercurrents of attraction, then you'll love Janice Boekhoff's thrilling story.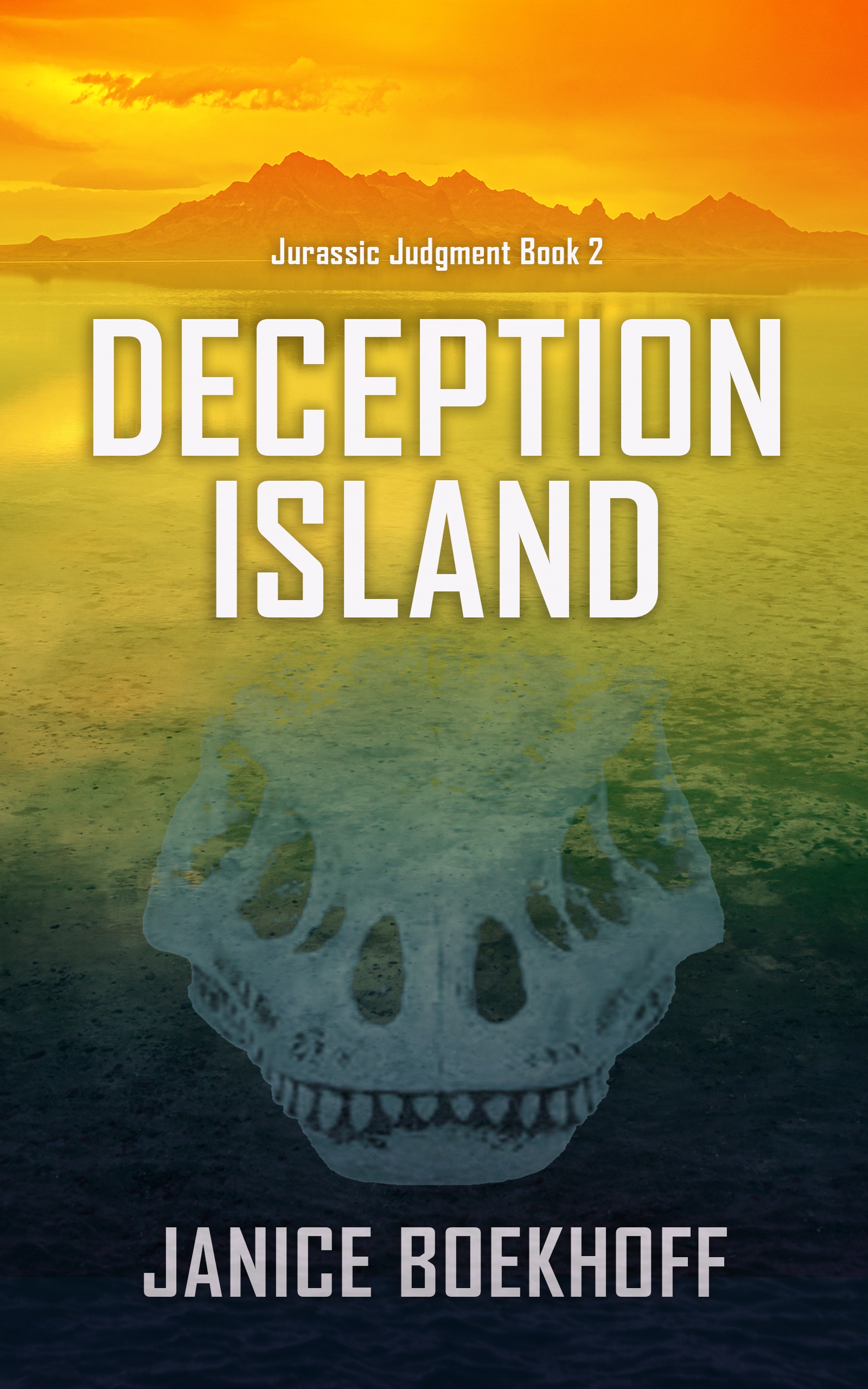 Reviews of Deception Island:
The premise of sending death row inmates to an island populated with dinosaurs is enough to draw anyone in. The first book was awesome and I was so excited to read book two. Well, I have and it was equally as amazing. Add to the prisoners and some bad to the bone dinosaurs, including Red Grizzly and Demon Dragon, then throw in some genetically altered people with incredibly odd powers, and all but the dinosaurs are running from someone or other, and you have an action packed, heart pounding tale that you won't soon forget. Then there's the cliffhanger making you nearly drool for book three. Janice Boekhoff knows her stuff, that I can tell you. Now I have to wait for the next one! Bravo!
Sci-fi and thriller readers who enjoyed Jurassic Park (and also the first book in Janice Boekhoff's Jurassic Judgment series) will find Deception Island a fine continuing saga of genetic manipulation gone awry.
Janice Boekhoff's ability to create a thriller format that incorporates sci-fi elements but heavily rests upon intrigue and survivalism will expand the audience of Deception Island to those who normally don't pursue the sci-fi genre. As Oakley faces self-discovery on a level that challenges her perception not just of herself but the world and her place within (or outside) it, readers receive a compelling, fast-paced action story filled with unexpected twists and turns to keep them guessing. One might think that prior familiarity with its predecessor, Extinction Island, would be a requirement in order to easily absorb the milieu of Deception Island; but Boekhoff provides recaps that are so seamlessly wound into this story that even prior fans won't balk at receiving information they already know. Ultimately, the question boils down to "why were we created?" The answer will surprise many.
Loved this book! The story just draws you in as do the characters. The island's inhabitants are as unique and interesting as the people behind it….and the dinosaurs…! The more I learn, the more I want to know. Can't wait to read the next one!
When book 1 is so outstanding, can book 2 be as good? In a word, YES! Deception Island is fast paced excitement. Janice Boekhoff has written a fabulously powerful sequel. I can't wait to read book 3.
This is a fantastic series, thrilling, action-paced, original, well-written and highly entertaining, which could easily be turned into a movie (or TV series) script. Dinosaurs, who doesn't love dinosaurs? Well, you might like to address the convicts about that. The narrative is flawless, the world-building carefully done, highly visual, the characters tridimensional with unexpected facets. This is an intelligent adventure thriller, that mixes political critique, social discourse and action fantasy into an enjoyable narrative that manages to intermix real world critique into the action, without at any time diminishing the entertainment value of the story.
The first book in this series was awesome and this one is even better! Non-stop, page turning action from start to finish. Genetically enhanced dinosaurs you don't want to run into, convicts you want to avoid, government agents you don't want to cross, and then you have the creators of the dinosaurs! What a well written story that you just can't put down! I am so anxious for the next book!!!